About us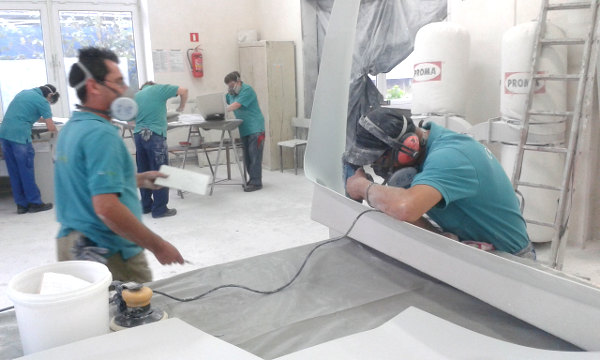 The Hyper Plastics SC company was established on 1/10/2014 from a merger of three smaller companies which dealt with the production of composites based on polyester resins for various industries for over 8 years. The production plant is located in Police near Szczecin.
We deal in the manufacture polyester-glass laminates (PS. Eng. GRP, Ger. GFK -) for the transport, bus, railway, agricultural industry, as well as the production of components for construction, playgrounds and fishing boats. Due to the special requirements for products from specific industries, we make laminates based on the following technologies:
Manual laminate ( Hand Lay-up) – the most commonly used technology for small series of elements, prototypes or products with complex geometry. We have experience in manufacturing products based on polyester, vinyl ester, epoxy resins and special applications (flame retardant resins, conductive resins). Using hand lay-up technology, we manufacture fishing boats, railway components (cabin interiors, exterior spoilers, etc.), vehicle body parts, construction machinery parts, roof spoilers for delivery vans, flaps for agricultural machinery, camping trailer parts, machine casings, elements of street furniture, elements for playgrounds, swimming pools.
RTM / Light-RTM – is the process of producing laminates in closed molds using a resin injection pump assisted by vacuum. Using RTM technology, we make large series of elements for customers for whom reproducibility of products is important. We have a vacuum installation and a pump which allows us to produce several elements simultaneously. The pump is able to inject standard resins as well as special resins (e.g. flame-retardant resins for railways).
Resin infusion technology (vacuum infusion) – A method which allows to obtain a higher content of glass reinforcement in a laminate compared to the hand lay-up. We utilize it for products in which high strength of the composite and a low weight is necessary. Using the vacuum infusion technology we make certain boat hulls from epoxy resins, as well as elements for construction. At the beginning of 2019, we have expanded our offer with the possibility of making molds using this technology.
The elements we manufacture are delivered in a deep gloss version, as well as in preparation for varnish.
At the beginning of 2016, we have added CNC milling services, modeling services and mold construction to our regular offer. We have a 3-axis milling machine with a working area: 2500x1500x590.
We provide 2D and 3D milling services. We process materials such as MDF, wood, polystyrene, Styrodur, polyurethane foams (PUR) and modeling blocks.
Our molding shop makes laminate molds based on numerically processed models and models built by hand. We use low shrinkage tool resin systems for the production of molds, which guarantee very high dimensional accuracy.
At present, we have three production halls with a total area of over 1,400 m2, we constantly employ 20-25 people;
Our aspirations to obtain the highest quality products and improve the qualifications of our staff are confirmed by the PN-EN ISO 9001: 2015 quality certificate, which we implemented on August 31, 2015.
We have our own transport: Fiat Ducato (canvas covered, 4.80×2.20×2.3 m).